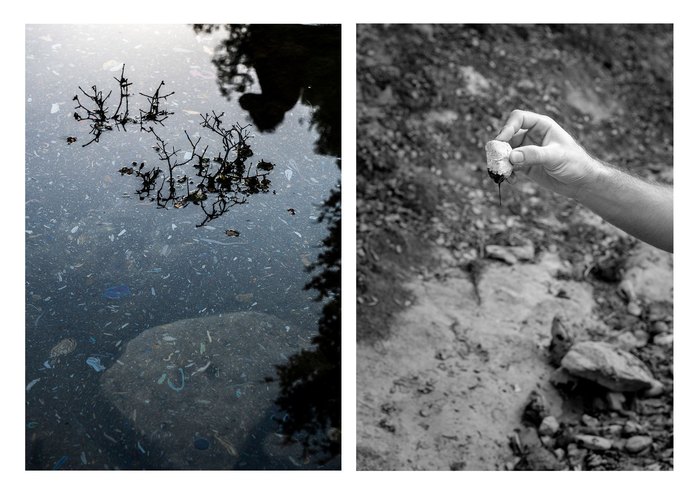 Under Pressure [2019-2021]
Under Pressure is a visual investigation into the history of oil and gas extractions in Greece and Albania since the early 20th century until today, in an effort to understand what the future will look like for those underdeveloped regions at the border of the EU.

Since 1918, oil and gas production in Albania has been linked to the interests of oil companies such as the famous Anglo-Persian Oil Company (the predecessor of BP), the American Standard Oil, the Italian AIAPA, the Royal Dutch Shell, former Canadian now Chinese owned Bankers Petroleum, as well as to the state-owned Albpetrol. The oil and gas industry has been a source of jobs and national pride, but it has also been linked to cases of pollution causing health issues to the communities living close to the oilfields and to earthquakes thought (not proved) to be caused by modern extraction methods.
Since the first explorations for hydrocarbons made by the Italian occupation army during WWII in Greece, the interest in fossil fuels has never ceased but exploration hasn't been extensively fruitful due to the complicated geography of the country. Since 2014, though, interest and hopes of production have increased. After a striking economic crisis, in 2019 1/3 of the greek territory was under exploration by both national and international companies causing a debate between the locals. Where some were seeing job and development prospects, others were protesting denouncing the imminent environmental threat for the rich biodiversity and clear water of the regions that are currently under exploration.
Through a combination of archive material, landscape, still and portrait photography, as well as extracts from interviews with residents and specialists, this research aims to guide us through these 2 parallel histories.
Part of this project was published as a bilingual greek-albanian free newspaper (1000+1000 copies) which was distributed to the affected communities in both countries, while a greek-english version is available online.
See and download the newspaper in greek-albanian here.
See and download the newspaper in greek-english here.
See and download the newspaper in french-english here.
In the context of "climate emergency" declared by the European Parliament in late 2019, while bearing in mind that the contemporary way of life is still based on hydrocarbons, this local story of geopolitical importance for the Balkans becomes a reflection of decisions taken on a global scale affecting ecological sustainability and therefore the future of humanity on this planet.
This project is supported by iMEdD